Looking for some ideas for your kids now that they are out of school for the summer? The summer is a great time to teach your children about the Bible.
Here are some ideas for Summer Bible Activities:
1. Memorize Some Bible Verses
I have a list of 50 Bible verses you can memorize. Or if you need something to build your confidence, I have a list of short Bible verses. I also have some tips to make Bible memorization easier.
2. Watch What's in The Bible with Buck Denver.
I have a review of this series that takes kids (or anyone, really) through the entire Bible in 13 DVDs. It's both fun and educational.
3. Memorize the List of the Books of the Bible
Work on learning the Books of the Bible and then have Bible Drills, racing to find Bible Verses. Check out these activities to help. Look at my Pinterest board for more suggestions. Play this active game to learn the difference between the Old and New Testament.
4. Teach One of my Children's Bible Lessons
During a laid-back summer, you can choose which topic and pick out which parts of the lesson you want to do. My themed units include The Five Senses, Colossians 3:12, Jesus' "I Am" statements, and God Controls Nature. Find them here.
5. Listen to Jonathan Park Audio Adventures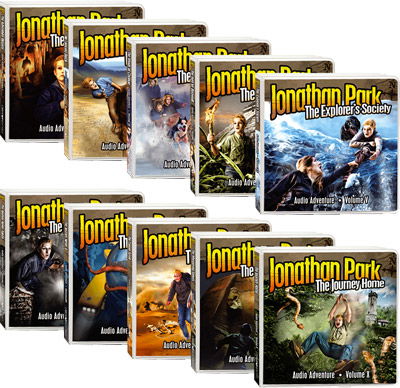 This exciting radio series is great for a road trip or just nice for the kids to listen to while playing quietly (at least hopefully) at home. Here is my review of the series.
6. Learn the Names of the Twelve Disciples
There are many songs to help you learn their names. Once you have learned them, I have a fun game you can play to process them.
7. Start a Habit For Children's Devotions
Get your kids in the habit of learning from God's Word daily. I recommend Keys for Kids, which is also available in an app.
8. Make Blessing Bags for the Homeless
Make some bags of items for the homeless and then keep them in the car for when you see someone in need or spend a day looking for homeless to help.
9. Play a Bible Scavenger Hunt
I have two Bible Scavenger Hunts, one for outdoors and one for indoors. Or you could make your own.
10. Find Babies in the Bible
Look up some well-known children in the Bible to complete this printable.
11. Make Some Crafts or Even Christmas Presents
Get a jump on making Christmas gifts or just make some crafts: duct tape wallets, crocheted items, silhouette ornaments or candle holders, fort kits, pillowcase dresses, Bible verse candle holders, sippy cup leashes and more. Find them here and here.
12. Make Some Beach Themed Candles
If you are heading to the beach this summer, I have the perfect souvenir that you can make with seashells.
13. Check out Some of My Favorite Bible Resources
Bible Verse Songs, YouTube channels, Free Bible Trading Cards, and more.